New Release
(Caterease Connect update is set for Monday, May 6th. )
Caterease 20 is a complete rebranding of the software. Every screen has been rebuilt with new colors and images. Every image in the application is a SVG image offering a cleaner, smoother look regardless of dpi resolution.
Some things to note:
Themes
We have eliminated all skins from Caterease and we're introducing "Themes" in their place. There are plenty of SVG compliant themes to choose from. Every control in the program accurate reflects the current theme. Many of the available themes are dark. Text and images throughout the program contort, depending on the theme.
Splash Screen
We're introducing a new splash screen with a new, cleaner, more modern logo. The splash screen color will reflect the currently selected "Theme".
Navigation Bar
The navigation bar has been changed to a cleaner, more modern "Accordion Style".
Icons
All program icon images have been updated to svgs. Some have been changed dramatically to a better, more self-explanatory image – reflecting the program content: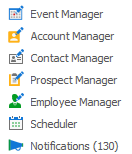 Document Builder
"Document Builder" is the new name for the old "Marketing Tools".
Touch Mode
The "Touch Mode" option is for touch-friendly devices. When selected, buttons and menu items create their size to make them easier to select with your fingers.
Map
Caterease 20 introduces a new, dynamic mapping tool that interfaces seamlessly with Bing Maps.
This map tool replaces the old "Get Maps" tool found in v18. Currently, you can utilize the tool from:
• Account Manager
• Prospect Manager
• Site Locations
• Event Manager
• Account Query
• Contact List
• Current Events
• Accounts Receivables
• Prospect Query
Map Locations
By default, the map locations are visible on top of the map. They change dynamically for each map display. The First location is the company location. The address and name can be found in your "Company Information" window. Subsequent locations are generated automatically from the location of the client, prospect, site, event, etc…
Google Maps Integration
We've added a Google Url to our Map Urls section. Every time a map is generated, a Bing Maps Url is generated and a Google Maps Url are generated.
Saved Maps
You can save routes that you go to often and load them quickly in your map using the "Maps" dropdown menu.
Auto Update
This option refreshes the map as users scroll records in the various managers or query results windows. It is defaulted to TRUE.
Display Auto Zoom Buffer
We've added a zoom buffer so all waypoints will be visible initially in the map display.
Window Settings
We've changed the dynamic of Window settings saving and loading. We now have three levels of settings:
• User Settings (for the current user only)
• Network Settings (everyone on a network)
• Enterprise Settings (everyone in an enterprise)
PDF Viewer
We've introduced a new, elegant PDF Viewer offering a plethora of cool new features.
Event Wizard
We are now defaulting the wizard with the "Find Panel" displayed. We have also added the field "Primary Contact" to the account grid. The combination of these two additions adds a powerful new searching tool.
Account Manager
We have also added the field "Primary Contact" to this grid.
Inactive Contacts
You can now make any contact "inactive". Inactive contacts can still be seen in the Account Manager and Prospect Manager. They simply cannot be seen in contact selection windows or the Event Wizard.
Auto-Clear AR On Close Event
This is a new setting designed to accommodate users who DON'T use CE for logging payments. When the event is closed the program will automatically log a payment for any balance due.
Merge Fields: New Financial Calc Fields
We've added the ability to perform inline calculations on any of the financial fields:
• Subtotal
• Service Charge
• Gratuity
• Taxes
• Total
Inline Recipes/Required Items in prints
We've added the ability to show your recipes (ingredient list) and required items list for each food/service item in your prints.
User Security
We have introduced two new "General Access" security settings:
1. Reports (access to all reports can be disabled)
2. Queries (access to all queries can be disabled)
Required Fields
We've added a new Prospect Manager Required Field "Minimum 1 Client Contact". It behaves in a similar fashion to the Account Manager.
Added "Loyalty #" to the list of optional Prospect required fields.
Security
We've added FS Access security to all applicable item fields in the Proposal window.
Deposits Due Query
We've added a few new fields to this query:
• Type (Event or Group Booking)
• Event Closed Date
• Log #
• Arrival
• Departure
Payments Made Report
We've modified this report and added groupings for Pay Type (Event vs Group Booking). It behaves exactly as the Deposits Due Report.
Copy Group Booking
The new "Copy Group Booking" utility allows Guestrooms Manager users the ability to copy a group booking and apply new arrival and departure dates to it:
ClientPoint Export
We've enhanced this tools to incorporate enterprise level prints:
File Dialog
We've reset the settings of the File Dialog and now default the "File List" box so that it DOES NOT "Show Folders". (This results in faster navigation).