v18 Update for Self-Hosted Caterease (Caterease Desktop)
Update Instructions for Self-Hosted Caterease are available by contacting the Caterease Support Helpdesk directly via help@caterease.com
Minor Settings Reset
The Event Manager Tools (menu and bar) have been reset in this build to allow for the Payment Link button to be added (see below). The actual saved Event Manager screens will not be affected with this update.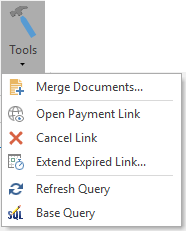 This step-by-step Caterease Help System article on customizing the Tools Menu and Tools bar can be followed to quickly restore any Tools customization.
New Features in This Latest Update
[/fusion_text][fusion_text]Menu Item Details Report
The last change we made to this report was not received very well – so, we've modified it again. Apparently the "Recipe Serving Qty" was ignored when calculating the ingredient qty. This has been corrected.
Payment Links
This release builds the foundation for the impending release of Vantiv Payment Link. (See Payment Link release notification.)
Anomalies Resolved
This update resolves several issues reported since the release of v18. Each customer affected by any of the issues has been notified separately by the Caterease Helpdesk.