** Caterease Hosted v18 customers – the next update will be installed overnight Sunday, 06/03/18 **
** Caterease Self Hosted (Desktop) v16 customers – v18 Desktop has been available for upgrade at your convenience! **
Caterease Desktop customers, please contact the Caterease Helpdesk via help@caterease.com for upgrade instructions.
New Features in This Latest Update
Enhancements
This build includes many enhancements to the program interface:
1. Changing child tool forms to a "Sizeable" window with a "tools" icon on them.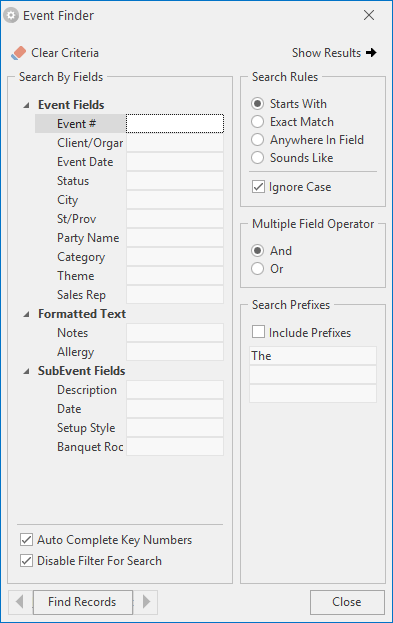 2. Changing the internal properties of all windows so that they ALWAYS stay on top of their parent window (no more dialog windows hiding behind main form windows giving the appearance of a "frozen" application).
3. Frame Only dragging is implemented for all windows in the program (easier painting for better performance in the online environment). This is for CEC only.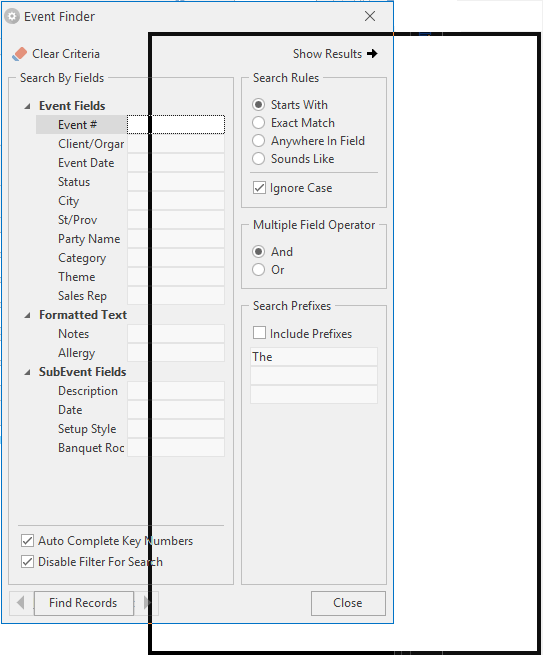 Image Dialogs
Added new Save & Load Image Dialogs.
Event Query
Added the field "Primary Site Category".
Prints
We've added a new print option allowing users to determine how their Food/Service descriptions will be displayed across page breaks.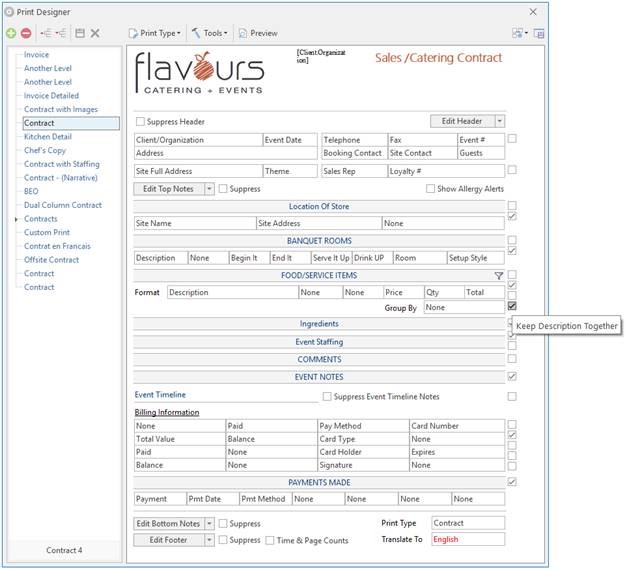 If your company uses long, many line Descriptions you might opt to NOT keep them together across page breaks. If, on the other hand, your Descriptions are only a couple lines then you would probably prefer the "Keep Description Together" option.
General Adjustments
Eliminated Too Many Records Prompt on Direct Export Of Reports
Increased the size of all "Website" fields in the program from 50 characters to 100 characters.
Error Messaging
To soften the impact of the occasional program error, we're making the message less cryptic and friendlier.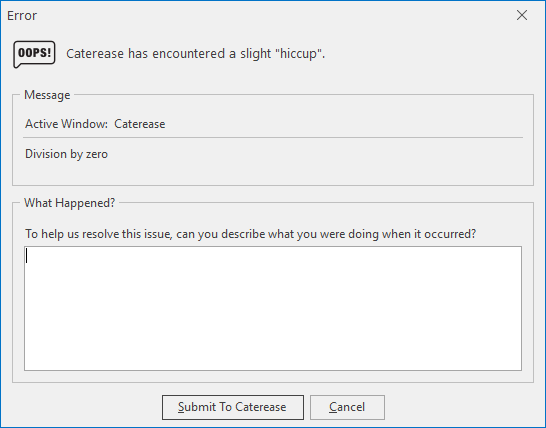 Too Many Records Notification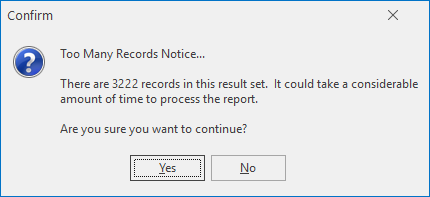 We've added this notification to the following reports when the result set exceeds a certain number of records (the default is 2500 – but some reports have a smaller ceiling):
Event Activity
Event Master (200 Records)
Event Sheet
Event Checklist
Event Cancellations
Event Bookings
Event Conflicts (200 Records)
Audit Trail (200 records)
Revenue Forecast
SubEvent Revenue
Grouped Events
Commission Sales
Deposits Due
Payments Made
Employee Staffing
Scheduled Shifts
Event Deliveries
Rooms Booked
Scheduled Items
Food/Service Items
Ingredients
Required Items
Account Origination
Total Contacts Made
Total Reminders
Menu Item Usage
Anomalies Resolved
This update resolves several additional issues reported since the release of the last v18 hotfix update. Each customer affected by any of the issues has been notified separately by the Caterease Helpdesk.