At Caterease Software, every tool we produce is developed with the end user in mind – providing the utmost in power and flexibility. And the incredible new Caterease Sales Dashboard is the latest cutting-edge example of this.
The Caterease Sales Dashboard can be accessed by an unlimited number of users through any browser, and offers unprecedented control to review important sales and revenue information. This slick, colorful tool literally springs to life the moment you log in – and lets you quickly analyze live information about your business, including:
• Sales & Revenue
Flexible charts and graphs let you compare sales and revenue for various date ranges (month over month, quarter over quarter, year over year, etc.) – and then filter and group that data by a variety of options. Choose to see details grouped by sales rep, theme, reference and more – even "location" for multi-unit corporations – and then filter that data further to show only specific subsets of each group.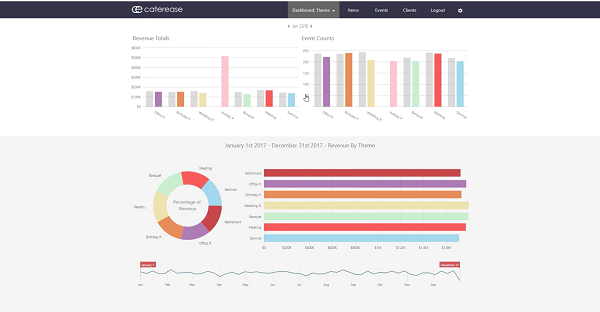 • Top Selling Product
Instantly review product sales based on revenue or quantity, and apply custom filters to these details, as well. Determine top items based on item "type" ("food", "liquor", "rentals", etc.), event theme and a variety of other options.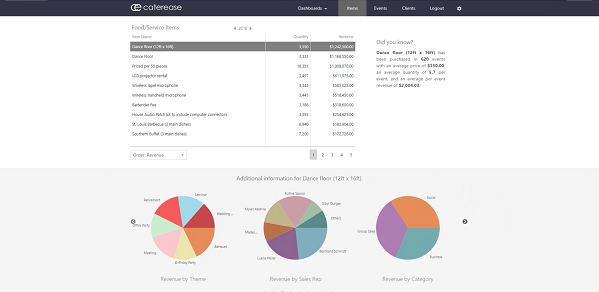 • Specific Event Details
Examine event information in a fully customizable grid, allowing you to choose which specific details are displayed, determine how columns are arranged, establish custom filters of the data and more. Any answers to any questions about your events are available at your fingertips.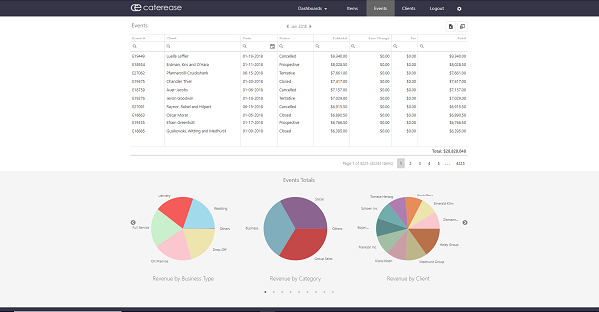 • Client Information
Compare customers based on number of events booked or even total revenue generated, and consult a detailed map to review client locations and determine patterns. Additional colorful charts analyze clients based on types of events they book, types of product they order and more.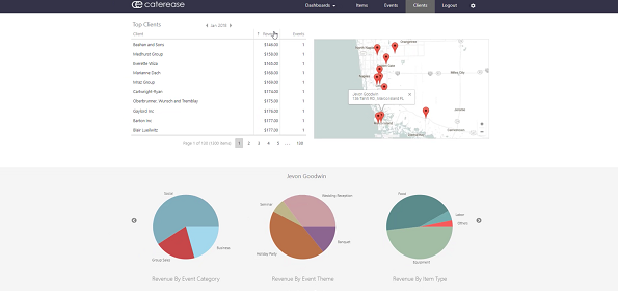 The Caterease Dashboard is a must-have tool to manage your business, and offers the kind of power that only a Caterease product can. Take a look at this amazing tool in the brief video above, and then contact Caterease today to learn more:
New Sales: 800.863.1616
Existing Customer: 239.261.6617