[fusion_builder_container hundred_percent="no" equal_height_columns="no" menu_anchor="" hide_on_mobile="small-visibility,medium-visibility,large-visibility" class="" id="" background_color="" background_image="" background_position="center center" background_repeat="no-repeat" fade="no" background_parallax="none" parallax_speed="0.3″ video_mp4="" video_webm="" video_ogv="" video_url="" video_aspect_ratio="16:9″ video_loop="yes" video_mute="yes" overlay_color="" video_preview_image="" border_size="" border_color="" border_style="solid" padding_top="" padding_bottom="" padding_left="" padding_right=""][fusion_builder_row][fusion_builder_column type="1_1″ layout="1_1″ background_position="left top" background_color="" border_size="" border_color="" border_style="solid" border_position="all" spacing="yes" background_image="" background_repeat="no-repeat" padding_top="" padding_right="" padding_bottom="" padding_left="" margin_top="0px" margin_bottom="0px" class="" id="" animation_type="" animation_speed="0.3″ animation_direction="left" hide_on_mobile="small-visibility,medium-visibility,large-visibility" center_content="no" last="no" min_height="" hover_type="none" link=""][fusion_text]
Reset Settings
Event Manager ** ONLY the Toolbar and Tool Menu **
The Toolbar and Tool Menu had to be reset to restore the "Event Timeline" button.
These can be quickly re-customized by and saved for individual users or by Administrators for saved Shared settings. (Press F1 while in Event Manager for context sensitive help on steps to complete the adjustments.)
Account Manager
The Layout Control had to be reset – new elements were added to Account Manager
The Account Manager has been updated similar to the "Contact Manager", "Prospect Manager" and the "Employee Manager" with all the same new tools and navigation. Among the new features are:
Super-fast loading and navigation
Filter Row
Find Panel
Grouping & Filtering
Logical, intuitive scrolling
Bookmarking/Go To Bookmarking Accounts Added a new, filterable field to the master grid "Last Event". This field represents the latest event date of any event that the client has booked.
New Features
Scheduler
Initial feedback from users was that they wanted the scheduler to look the way it did prior to the update. This is a very simple process: (see below and the previous notification from yesterday on step-by-step instructions to restore the prior layout of the Scheduler.)
Drag the details grid to the bottom of the window.
Suppress the Details Caption
Move the Date Navigator back to the right (Advanced Settings)
Suppress the Range Control (Advanced Settings)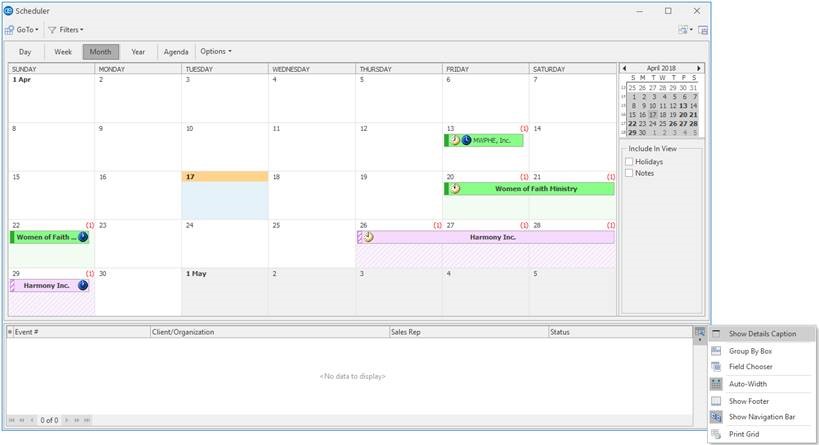 [/fusion_text][/fusion_builder_column][/fusion_builder_row][/fusion_builder_container][fusion_builder_container hundred_percent="no" hundred_percent_height="no" hundred_percent_height_scroll="no" hundred_percent_height_center_content="yes" equal_height_columns="no" menu_anchor="" hide_on_mobile="small-visibility,medium-visibility,large-visibility" class="" id="" background_color="" background_image="" background_position="center center" background_repeat="no-repeat" fade="no" background_parallax="none" enable_mobile="no" parallax_speed="0.3″ video_mp4="" video_webm="" video_ogv="" video_url="" video_aspect_ratio="16:9″ video_loop="yes" video_mute="yes" video_preview_image="" border_size="" border_color="" border_style="solid" margin_top="" margin_bottom="" padding_top="" padding_right="" padding_bottom="" padding_left=""][fusion_builder_row][fusion_builder_column type="1_1″ layout="1_1″ spacing="" center_content="no" link="" target="_self" min_height="" hide_on_mobile="small-visibility,medium-visibility,large-visibility" class="" id="" background_color="" background_image="" background_position="left top" undefined="" background_repeat="no-repeat" hover_type="none" border_size="0″ border_color="" border_style="solid" border_position="all" padding_top="20px" padding_right="" padding_bottom="" padding_left="" margin_top="" margin_bottom="" animation_type="" animation_direction="left" animation_speed="0.3″ animation_offset="" last="no"][fusion_text]
Anomalies Resolved Since the Version 18 Upgrade Overnight this Past Sunday
An error occurred trying to print Marketing tools documents
The Event Timeline button was missing from the Event Manager
Printer Setup Dialog was contorted.
5215: Ingredient Query – "Include All Sub-Recipe Ingredients" option excludes sub-recipes but does not include sub-recipe ingredients
5326: Print Designer | Prospect Manager Proposal – Estimated Financials section Type breakdown not following Food/Service Item Types configuration
5400: Event Query – "CPG Tot" and "CPG Sub" fields not calculating for events with only Planned Guest count
5401: Employee Manager | Employee Vacations – Entries on Notes tab do not save
5403: Menu Manager – Delete Current Menu does not warn about items in use with filter applied that hides items in use
5404: Contacts Made Query – Missing Event# field for linked events
5407: All Manager and Query Grids | Custom Grid Views – Error when attempting to Move To Shared, "Invalid object name 'GridViews'."
5408: Event Manager | Copy Event confirmation window – Text overlaps Yes/No buttons if event has discount applied
5418: Print Preview | Printer Setup | Printer Properties – Printer Setup/Preview window loses focus after clicking Ok (CEC Only)[/fusion_text][/fusion_builder_column][/fusion_builder_row][/fusion_builder_container]