[fusion_builder_container hundred_percent="no" hundred_percent_height="no" hundred_percent_height_scroll="no" hundred_percent_height_center_content="yes" equal_height_columns="no" menu_anchor="" hide_on_mobile="small-visibility,medium-visibility,large-visibility" class="" id="" background_color="" background_image="" background_position="center center" background_repeat="no-repeat" fade="no" background_parallax="none" enable_mobile="no" parallax_speed="0.3″ video_mp4="" video_webm="" video_ogv="" video_url="" video_aspect_ratio="16:9″ video_loop="yes" video_mute="yes" video_preview_image="" border_size="" border_color="" border_style="solid" margin_top="" margin_bottom="" padding_top="" padding_right="" padding_bottom="" padding_left=""][fusion_builder_row][fusion_builder_column type="1_1″ layout="1_1″ spacing="" center_content="no" link="" target="_self" min_height="" hide_on_mobile="small-visibility,medium-visibility,large-visibility" class="" id="" background_color="" background_image="" background_position="left top" background_repeat="no-repeat" hover_type="none" border_size="0″ border_color="" border_style="solid" border_position="all" padding_top="" padding_right="" padding_bottom="" padding_left="" dimension_margin="" animation_type="" animation_direction="left" animation_speed="0.3″ animation_offset="" last="no"][fusion_text]
Release Schedule
Caterease Connect – The update will be performed by our staff overnight on Sunday, April 15, 2018. (*revised date)
Caterease Desktop – The update will be available for customer download the week of April 16, 2018. (*revised date)
[/fusion_text][fusion_text]
Windows Settings
In this release of Caterease, ALL DEFAULT WINDOW SETTINGS have been changed to accommodate wider screen displays. Previously saved window settings will still be honored.
When a user "Resets" their window settings, the new defaults will take effect. The one exception to this is in the Scheduler. We've added a new docking panel for the grid and are forced to reset this window: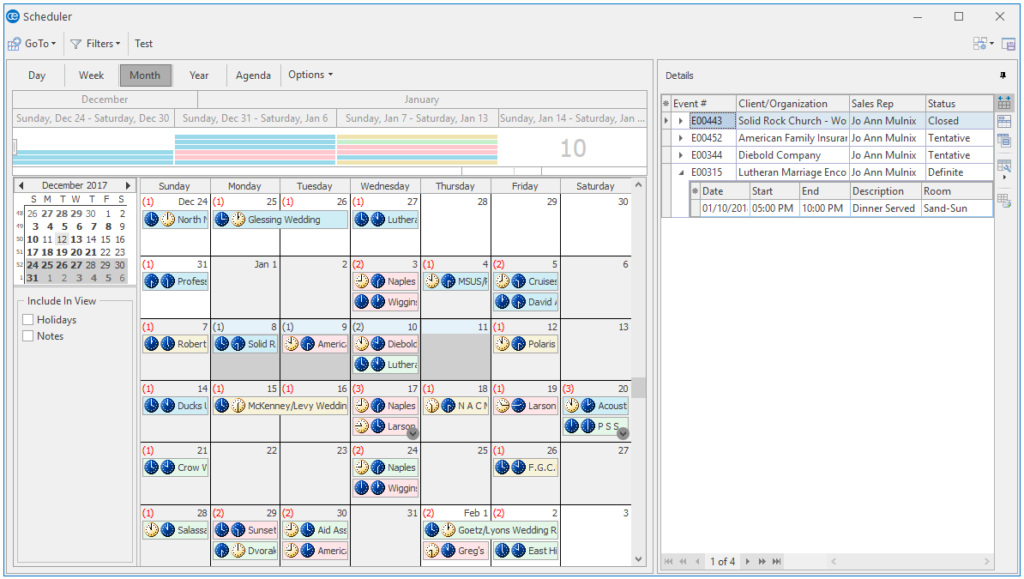 The details section can now be dragged and dropped anywhere along any edge of this window. It can also free-float.
This update will not have any effect on the saved windows settings, saved layouts or saved queries for the main, common windows in the program such as Event Manager, Event Wizard, Account Manager, or any other window besides the one listed above.
New Features in this Build
[/fusion_text][fusion_text]
Menu Item Detail Print
This print has been completely re-written. If you go to your Miscellaneous Print Designer, you can modify the settings to include some of the new features: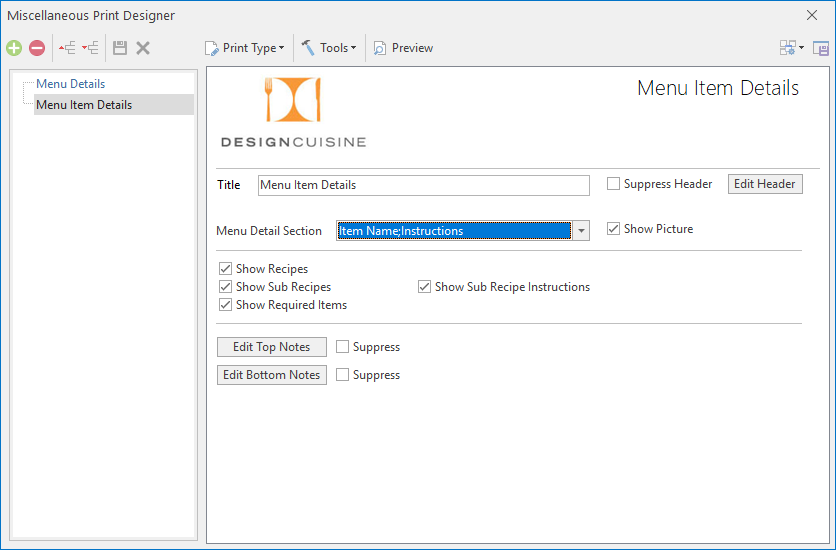 Some new options include:
Show Picture
Show Sub Recipes
Show Sub Recipe Instructions
To run it, simply select a menu item in your Menu Manager and click the 'Prints' menu and "Menu Manager – Menu Item Details"
Any current selected menu items will appear. You simply enter your desired "Portion" and click the OK button.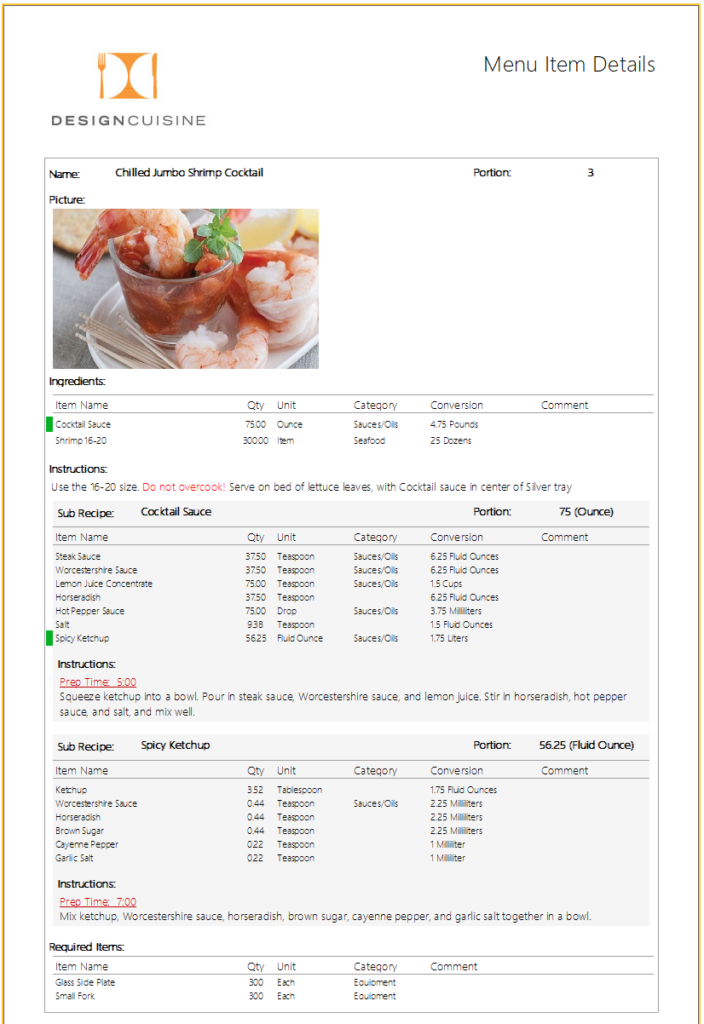 The items main ingredients are at the top with the any sub-recipe exploding below. Notice in this example: The "Cocktail Sauce" is a sub recipe (green tick). To make the 75 ounces of "Cocktail Sauce" needed, you will need 56.25 fluid ounces of "Spicy Ketchup" – another sub recipe (green tick).
Instructions for recipes and pictures are optionally shown as well.
[/fusion_text][fusion_text]
Web Inquiry Manager

We're introducing a few new features in the Web Inquiry Manager in this build:
Caption
The caption now shows how many unprocessed Web Inquiries you have. It mirrors the number on the "Web Inquiry" Nav Bar shortcut.
Batch Processing
You can now process multiple inquiries into your Account Manager or Prospect Manager. Event Wizard inquiries still must be processed one at a time.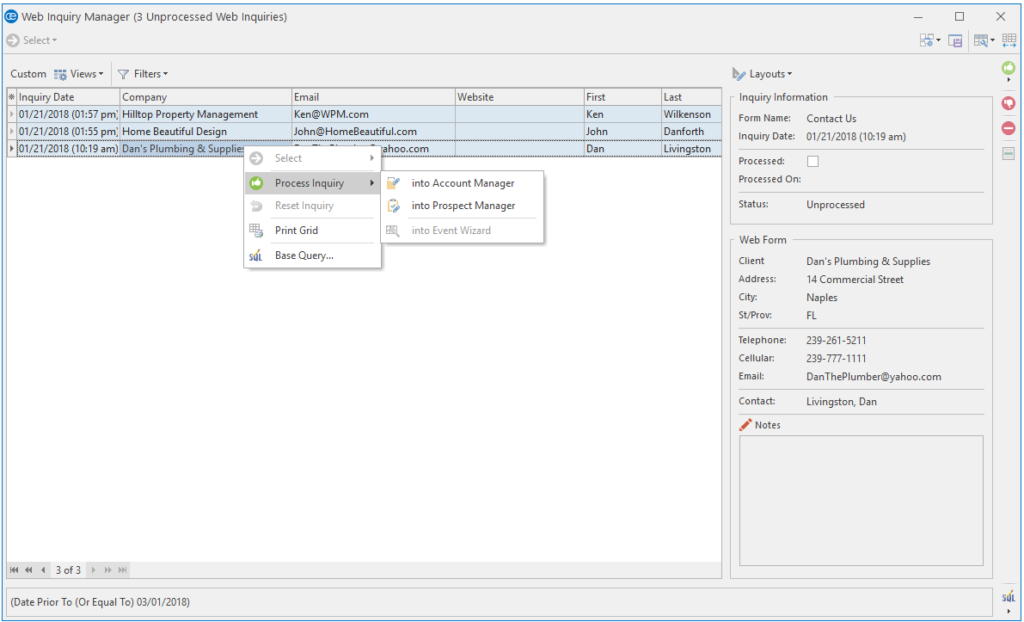 If you select "into Account Manager" you will have the option of setting some default field values: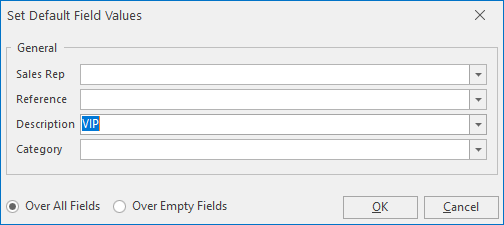 There are a couple of options to consider:
Over All Fields:
In this scenario, the VIP field will become the Account's "Description" for all three records generated.
Over Empty Fields:
In this scenario, the VIP field will become the Account's "Description" for only those records that DO NOT HAVE web inquiry fields associated with the "Description".
If the Web Inquiry is being processed into the Prospect Manager, you will have the option of adding PM fields like Next Date, Next Action and Status: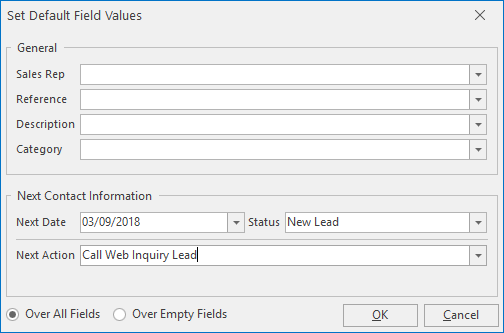 Possible Duplicates
When batch processing leads, if a potential duplicate record is found, the batch processing will skip it and force you to process them individually: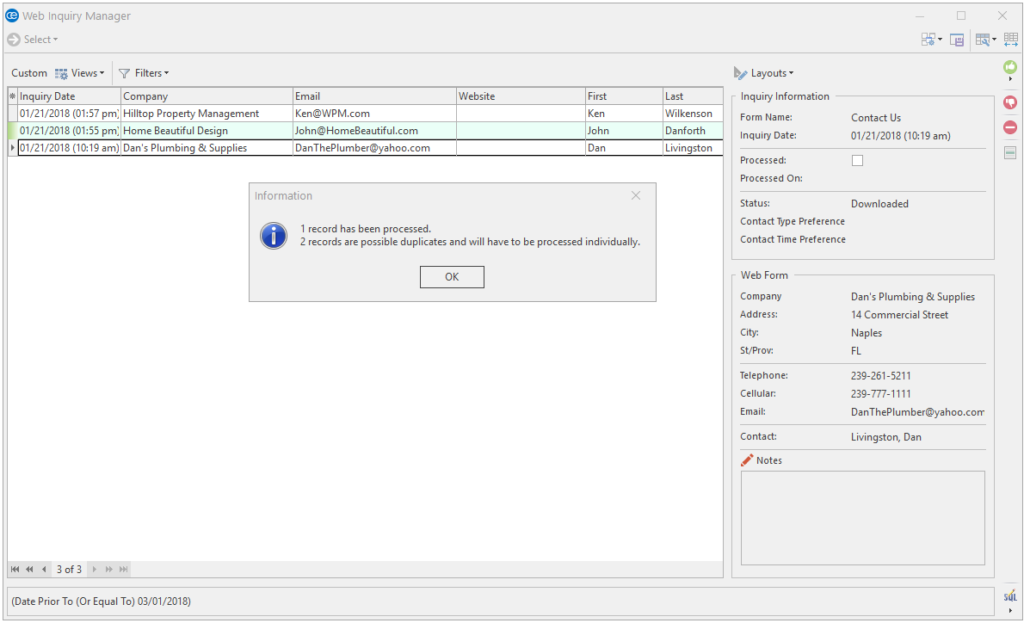 When you process a possible duplicate individually, you will get the following "Duplicate Warning" window:
This window shows all the possible duplicates and their contacts. It also indicates whether the duplicate record is a "Prospect" or an "Account". You have four options moving forward:
Cancel the processing completely
Ignore the duplicates process the inquiry
Add any contacts into the selected, duplicate account
Link the web inquiry to the selected account
[/fusion_text][fusion_text]
New Backstage Graph – Event Bookings
This new chart allows you to evaluate Event Bookings by any type of measurement. Review conversion rates, measure booking number and value by Sales Rep, Theme, Category, etc…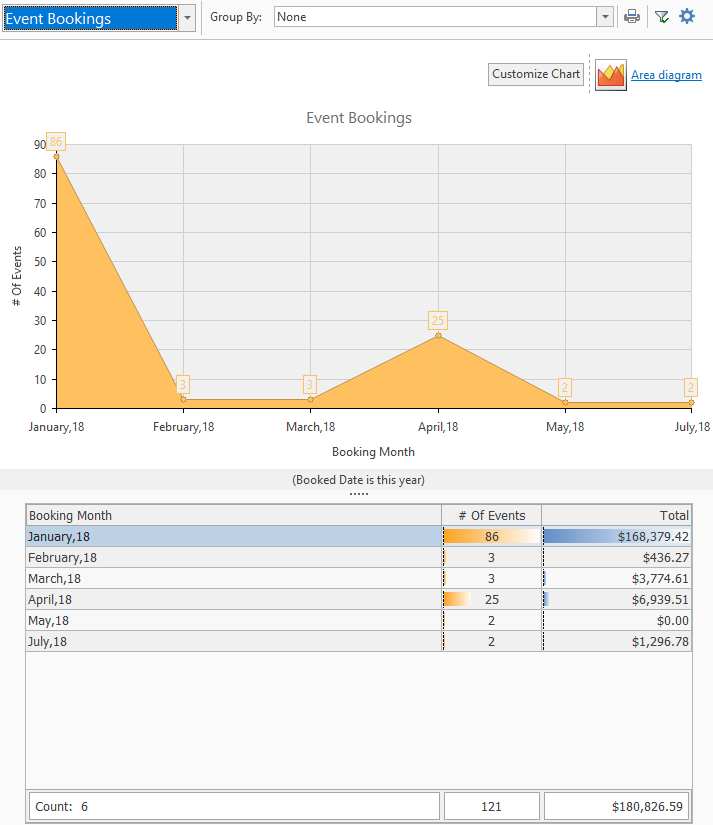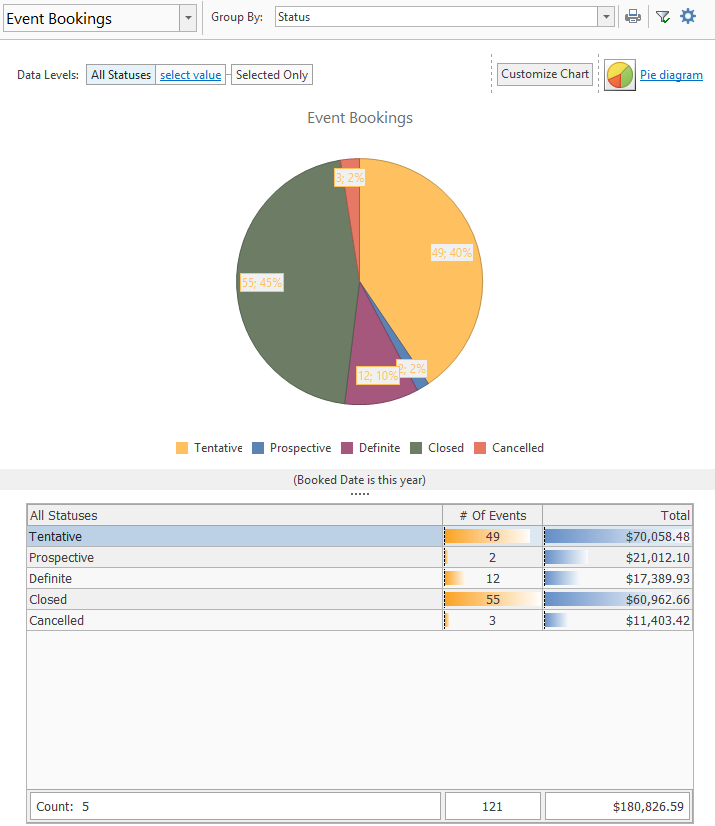 BackStage Tabs
Every Tab has a new, updated look and feel.
Dashboard Backstage Tab
This tab has been completely redesigned to include many new sections and functionality.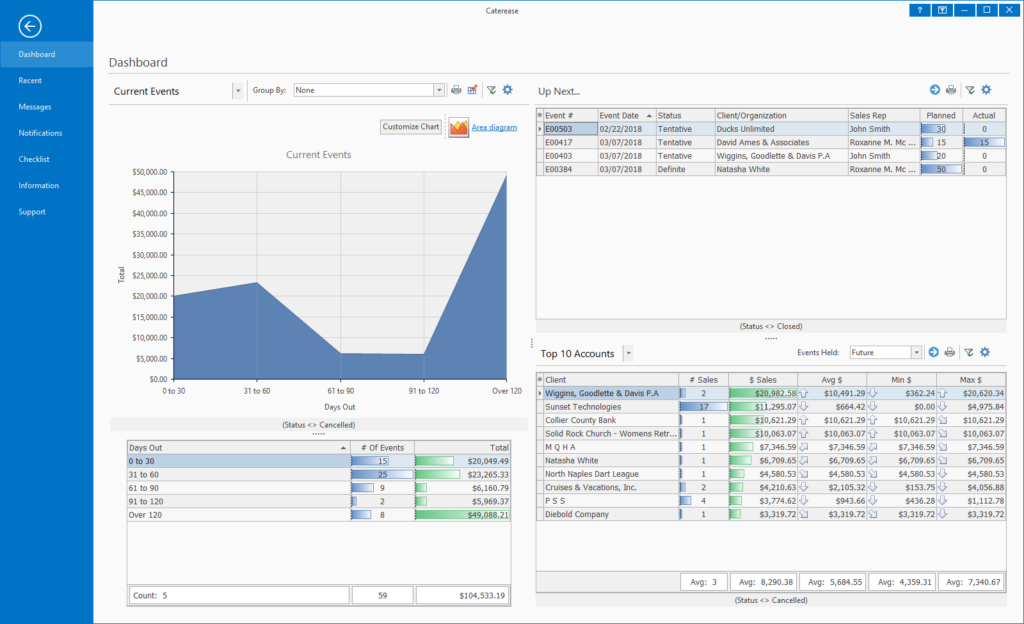 Improvement include:
Filters can be added to each section.
Conditional formatting can be added to each grid via the grid's popup menu:

The graph styling has been enhanced
We've added an optional "Line" graph
Every setting automatically saves and reloads
Hint: if you double click on a splitter, the section minimizes.
Performance Enhancements
We've improved a few performance bottlenecks created with prior builds.
Required Fields
We've added the subevent user defined fields as optional required fields.[/fusion_text][fusion_text]
Default Filtering (Event Manager)
There is a new default filter when you open up your Event Manager (with default settings):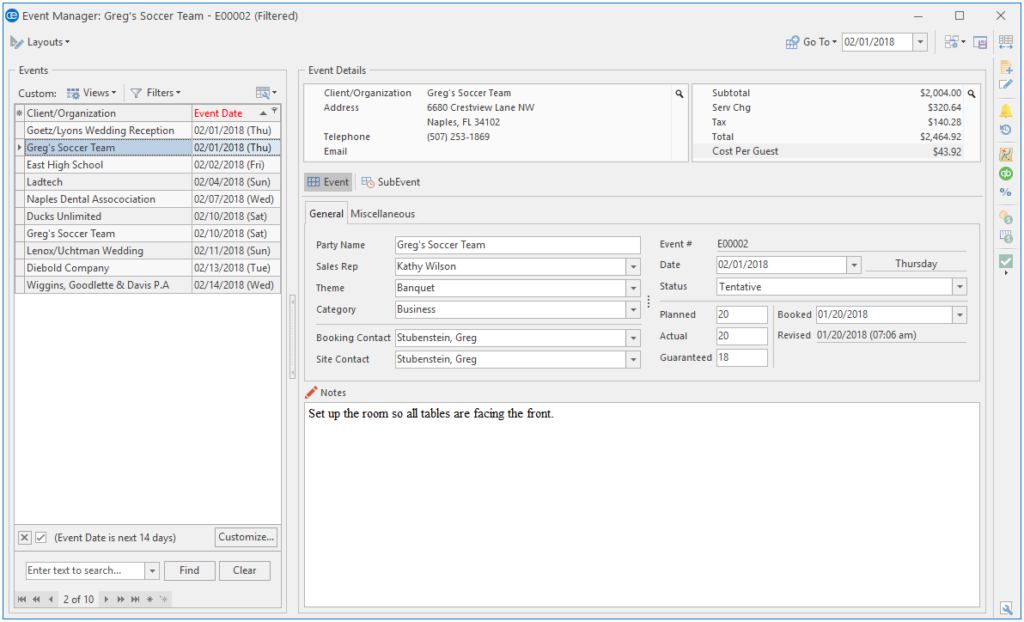 The default filter is "Event Date is next 14 days". This can easily be changed or disabled if you desire.
Scheduler – Multi-Locations
We've enhanced the way we jump from location to location in an enterprise environment. Instead of using "Location Tabs", we've enhanced things by using a locations collapsible panel. This approach can support thousands of locations and adds features like:
Incremental Search Of Locations
Multi-Location Field Views
Jump to "Default Location" button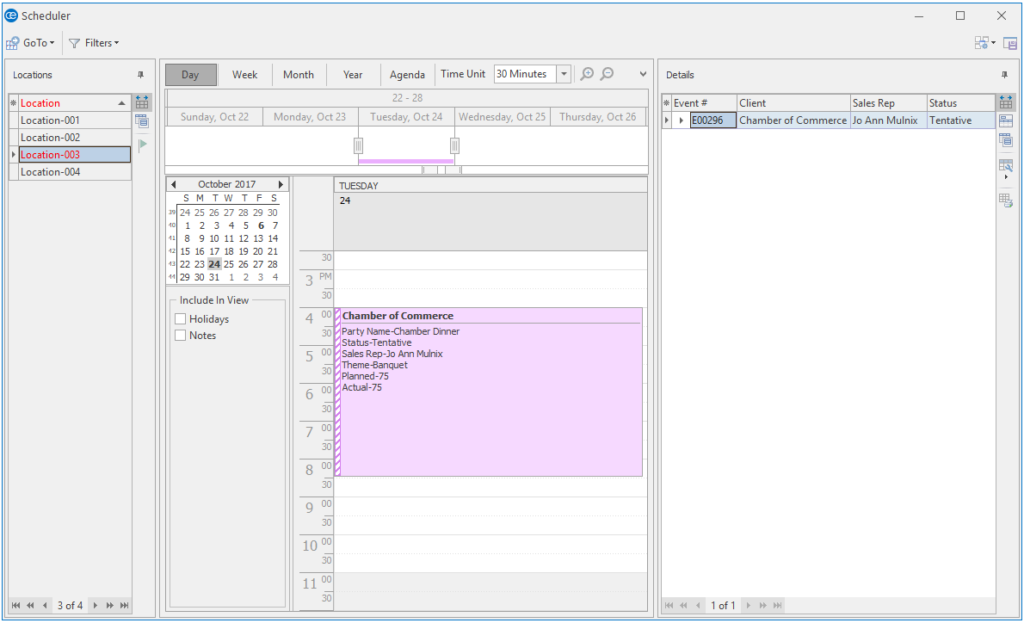 Touch Friendly Scrolling
This release introduces a scrollbar mode optimized for touch-enabled applications. In this mode, the scrollbar thumb appears when an end-user hovers the mouse pointer over a control or scrolls through its content. The mouse pointer disappears if it is stationary or the control is not scrolled for some time. The scrollbar buttons are never displayed.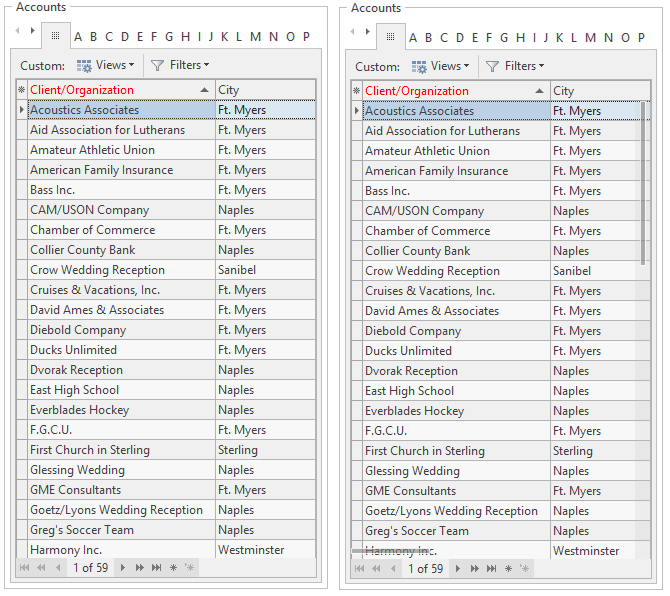 "Touch Friendly Scrolling" has been enabled by default in this release. If you want to disable it and revert back to the "classic scrollbar look", simply open up your "User Preferences" window and uncheck the "Touch Friendly Scrolling" under the "Display Tab".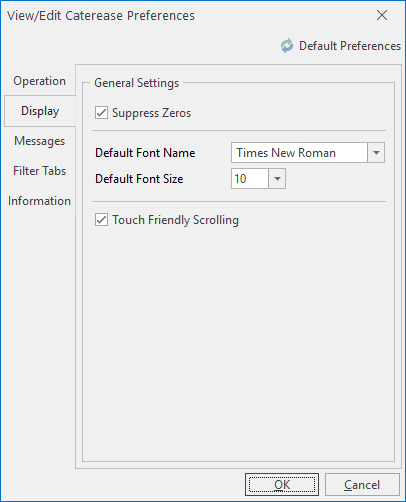 Modifier Selection Checkboxes
When selecting menu modifiers, you now can use a checkbox. Selecting the row(s) still applies, but, the checkbox adds an easier, logical user interface.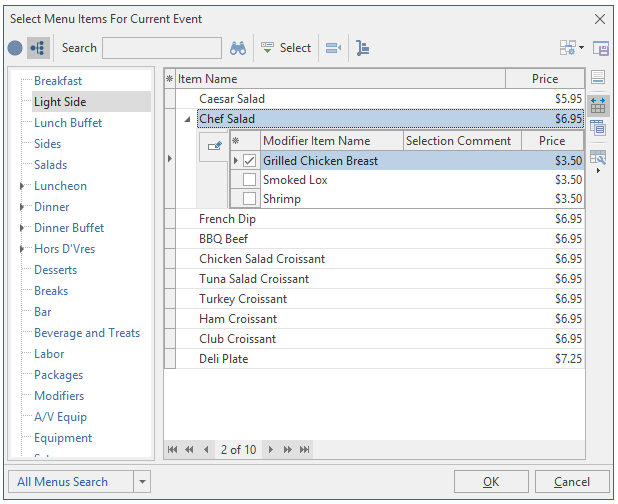 Excel Style Conditional Formatting
We are introducing Excel Style Conditional Formatting in this release.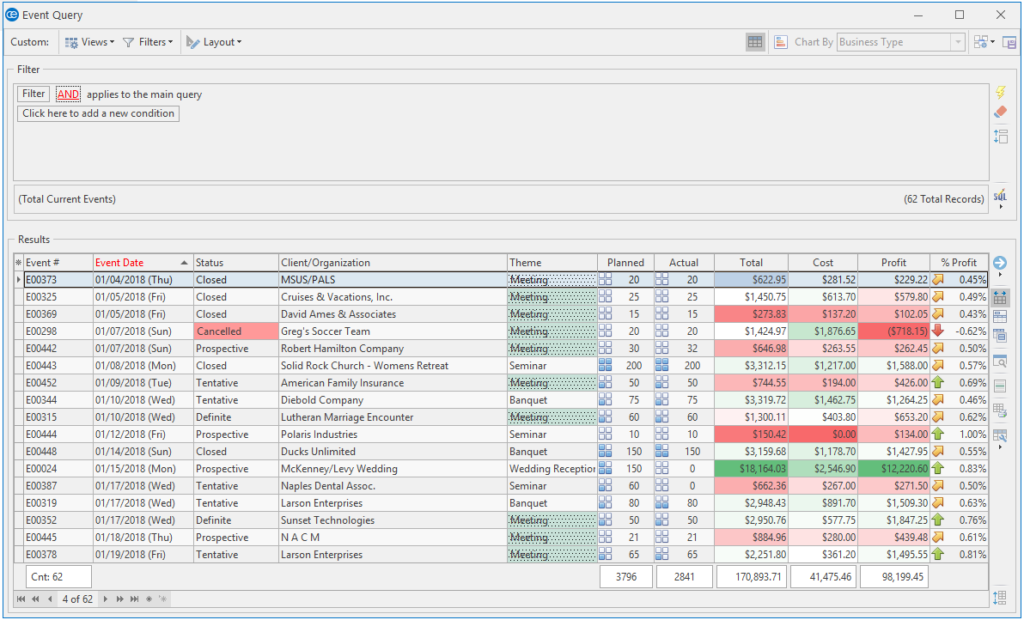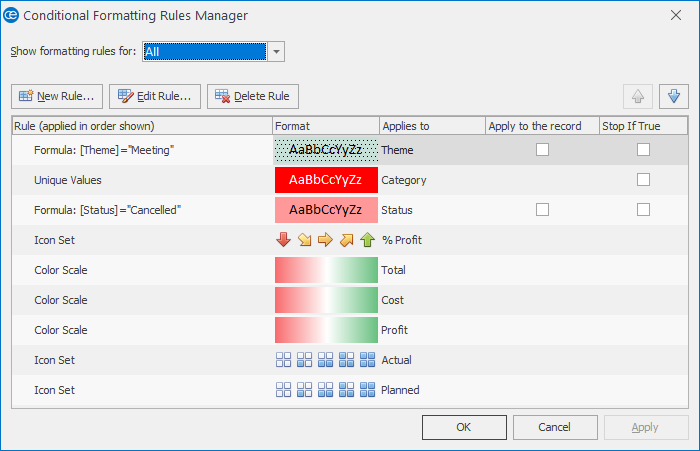 [/fusion_text][fusion_text]
Main Grid Dropdown Menu
We've added a new main grid dropdown menu to all managers. It can be found adjacent to the "Custom Views & Filters" dropdowns. The same menu can be also accessed from the window's settings menu.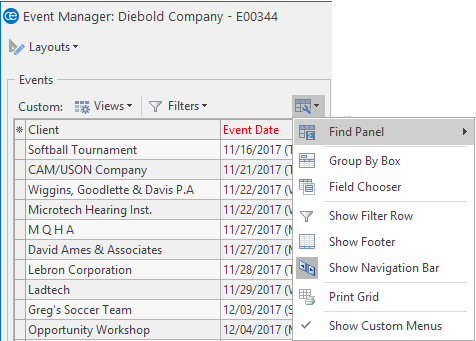 Find Panel Positioning
Now, in all the managers, the "Find Panel" is positioned by default at the bottom of the main grid. It also defaults as "Visible". Within the new "Grid Settings" dropdown menu, you can change the position to Top if you desire.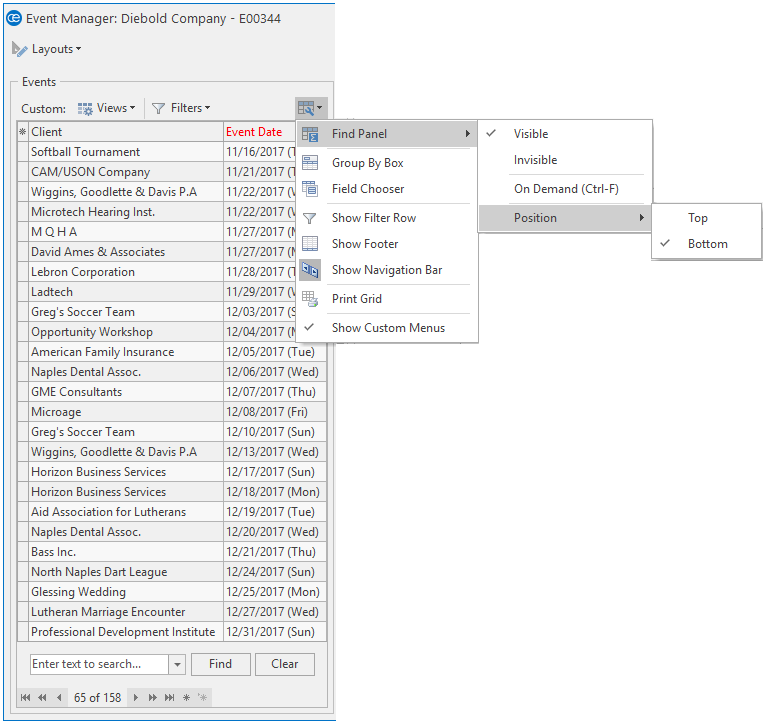 [/fusion_text][fusion_text]
Event Master Report
This report has been modified to optionally include "Required Items" and to offer single event printing.
When you open the Event Master report's parameter window (without an active Event Manager open) you will see an option to select "Required Items":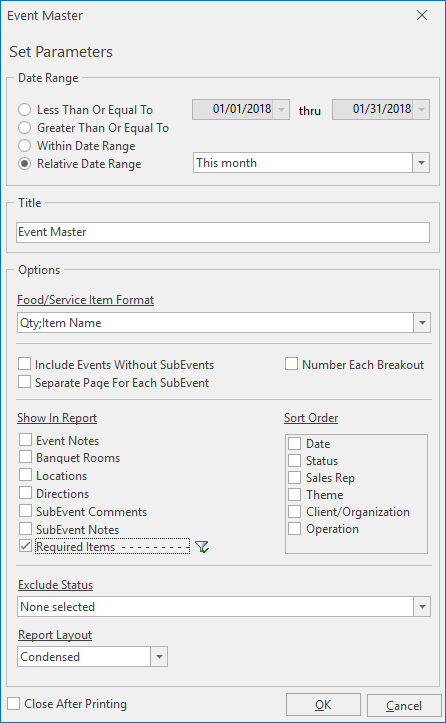 You can optionally include a filter for the required items that you want appearing in the report: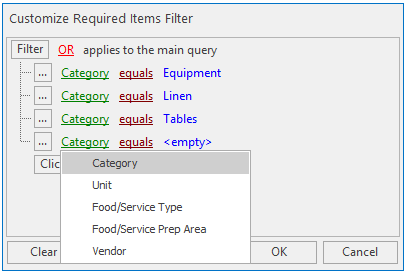 If you have an active Event Manager and you select the Event Master report, you will see an optional "Use Event…" parameter: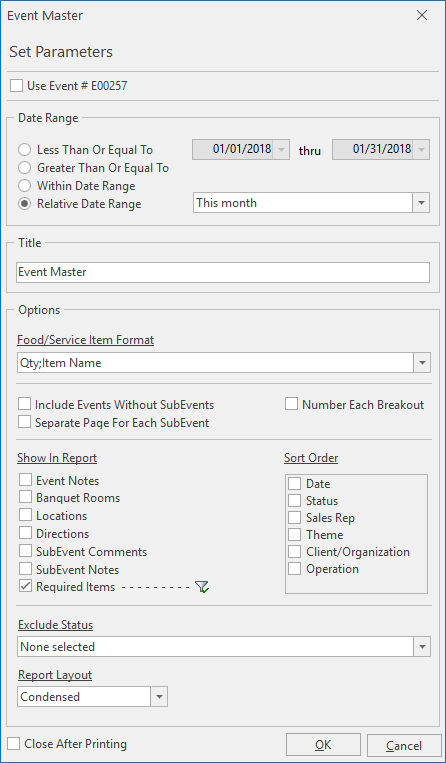 Selecting it will disable all options that pertain to multiple event reports: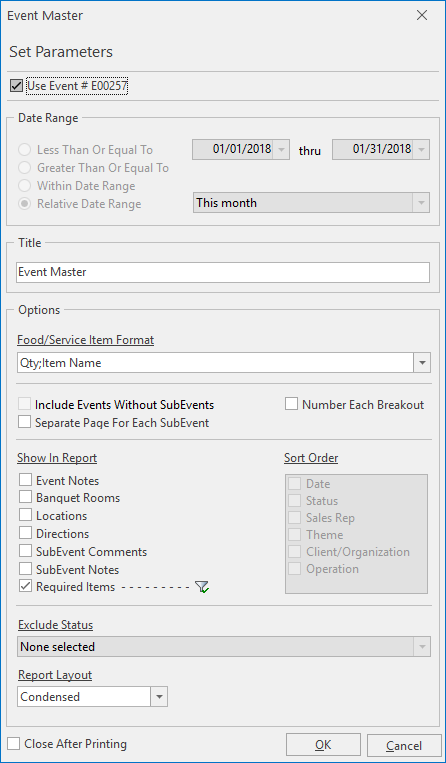 Clicking OK will generate the report with the Required Items included: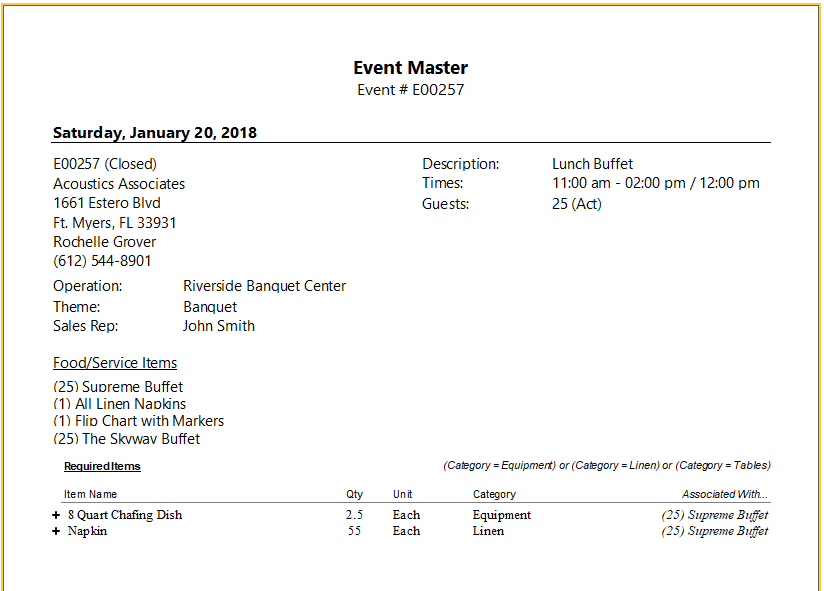 Note:
You can drill down to the specific item detail.
The filter is shown above the Required Item section
Deposits Due Query
We are releasing a "Deposits Due Query" in this build of Caterease (Standard/Professional). It can be found in the "Tools" navbar group and the "Basic" dropdown menu of the "Select" tab.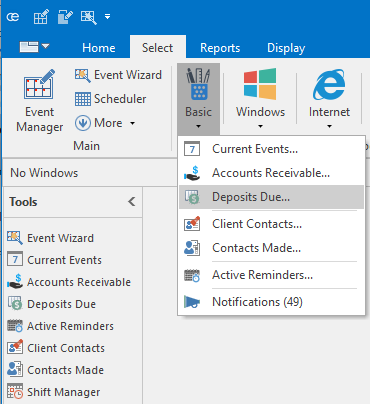 The base query includes the following options: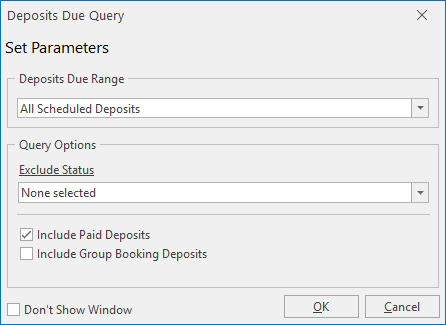 Once you click OK, the following query results window opens: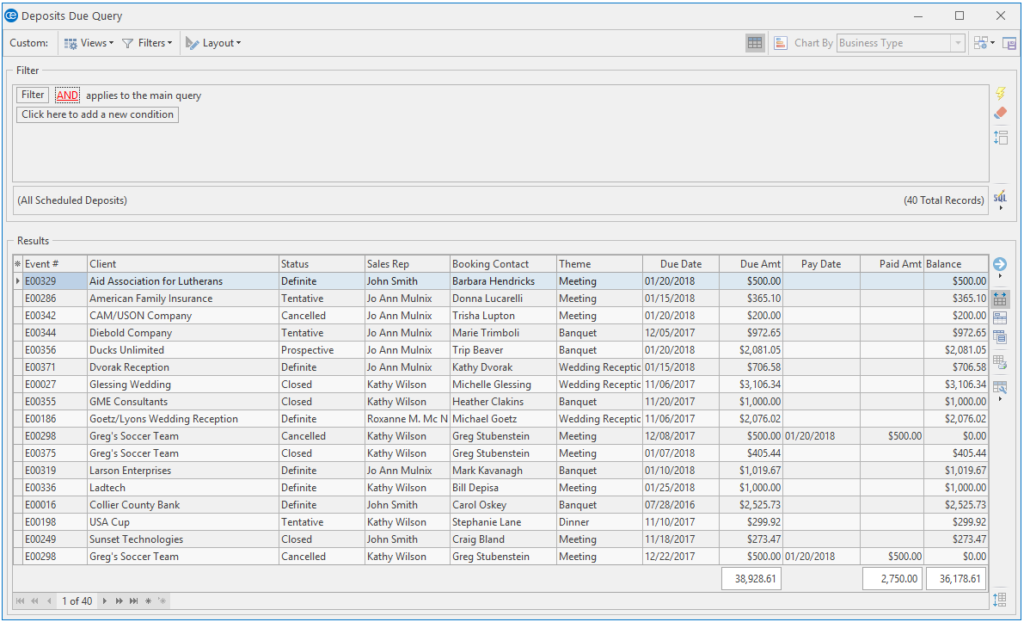 From here, you can filter the results and print a "Deposits Due Report"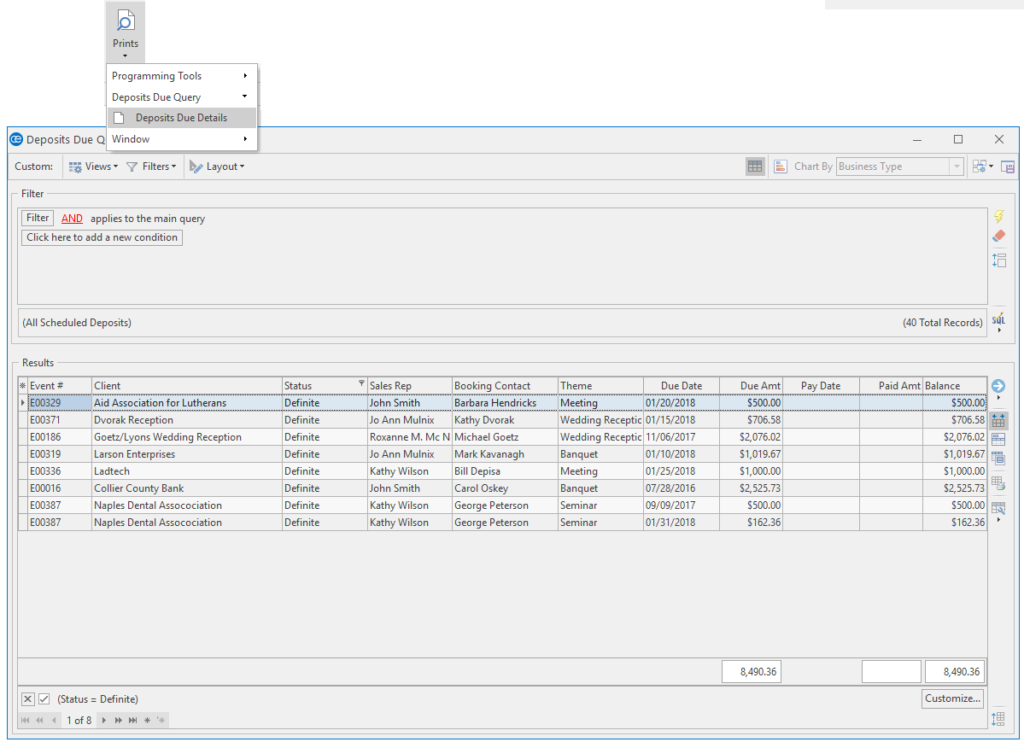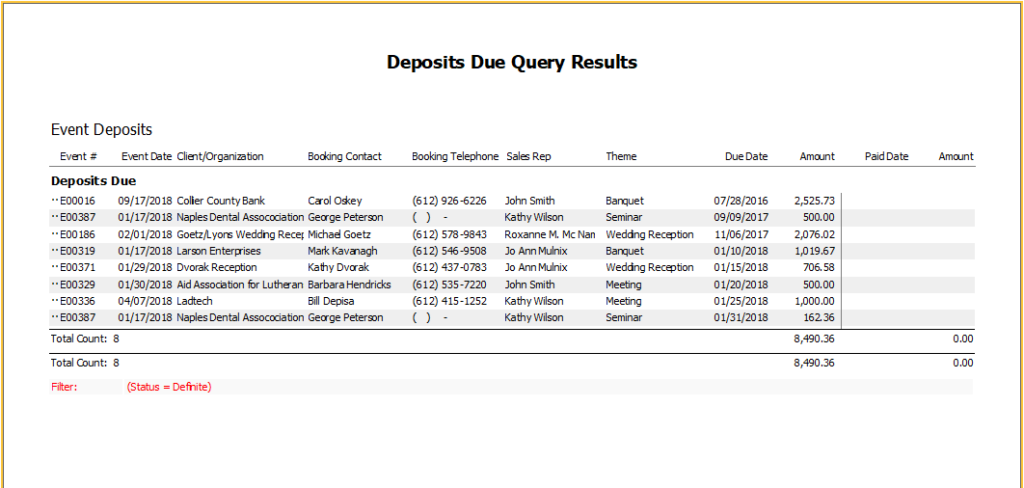 [/fusion_text][fusion_text]
Multi-Location Selection
Reports and queries now have a different way of searching and selecting what location they want applied: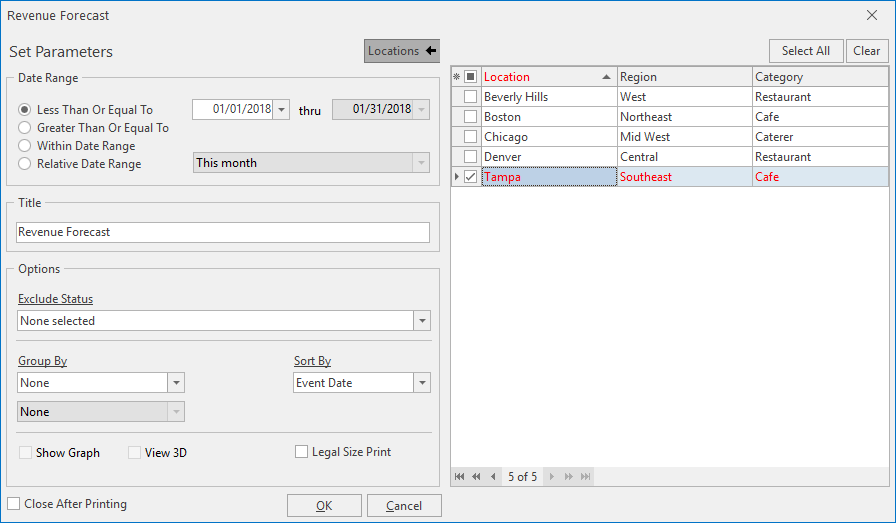 You can display additional fields as well: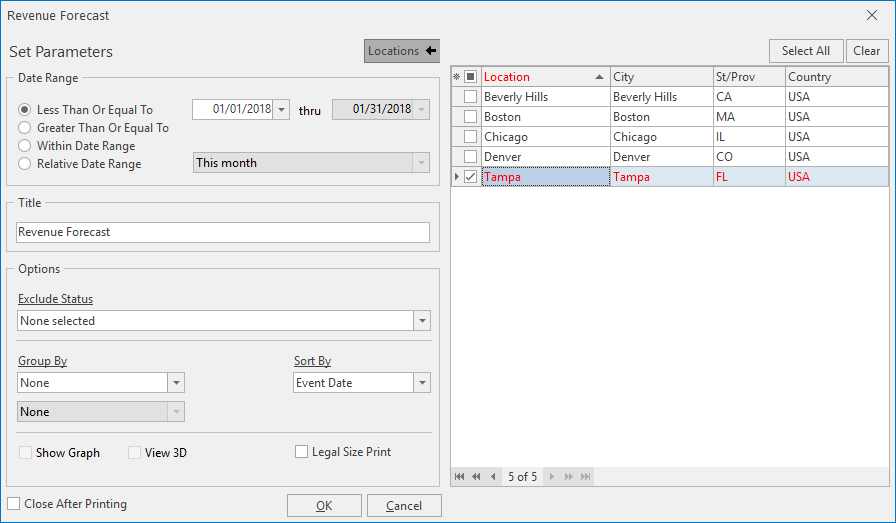 You can filter and do incremental searches to locate your locations.
Finder
We've added an optional "Disable Filter For Search" checkbox to the finder. If the underlying dataset is currently filtered when the "Finder" is shown, this option appears. It make any filter "inactive" prior to searching.
We've also changed the coloring slightly on this tool to give it a bit more elegance.
We've modified the fields display algorithm a bit. The fields displayed used to include the first 10 visible fields in the navigation grid. Now, the first field is always the "Event #" field regardless if it is visible or not in the grid.
[/fusion_text][/fusion_builder_column][/fusion_builder_row][/fusion_builder_container]