Release Schedule
Caterease Connect – The update will be performed by our staff overnight the morning of Monday, June 25, 2017
Caterease Desktop – The update will be available for customer download the week of June 25, 2017.
Windows Settings
This update will not have any effect on the saved windows settings, saved layouts or saved queries for the main, common windows in the program such as Event Manager, Event Wizard, Account Manager, or any other window.
New Features in this Build
Event Manager
We've added two fields to the Event Manager main grid:
• Event Begin (the earliest date and start time of any subevent in the event – less its setup time)
• Event End (the latest date and end time of any subevent in the event – plus its tear down time)
Sorting by "Event Begin" will more accurately sort your events than using "Event Date."
Event Prints
We've added many more available Food/Service item fields for all prints:

We've added a new print option at the Food/Service Item level – "Suppress Qty Without Price".

With this option checked, any Qty will be suppressed if the associated item price is zero ($0.00). For example:

This contract would print out as:

Event Sheet
We have added the optional field "Subevent Type" to the list of available fields.
Preferences
We removed the option for "Direct Grid Editing".
User Security
We removed the privilege for "Direct Grid Editing".
Food/Service Query
We've added three fields to the results grid:
• Inventory Item
• Inventory Out
• Inventory Return
Event Costing Summary
We've modified this utility and added any Required Items that have associated costs to it: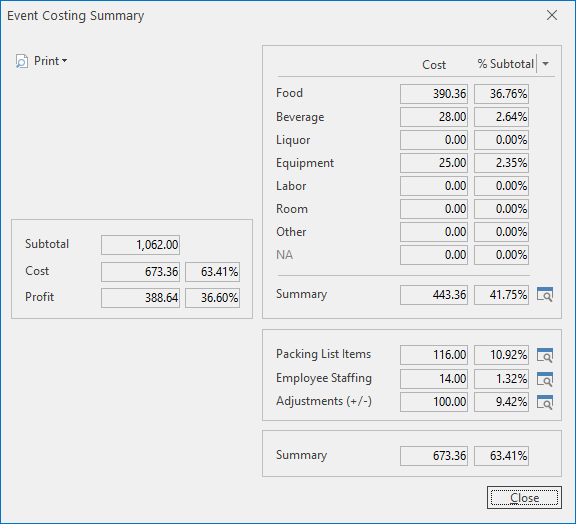 You have the option of displaying a percentage of each item to the events Subtotal or Cost simply by selecting from the dropdown in the upper right corner of the window: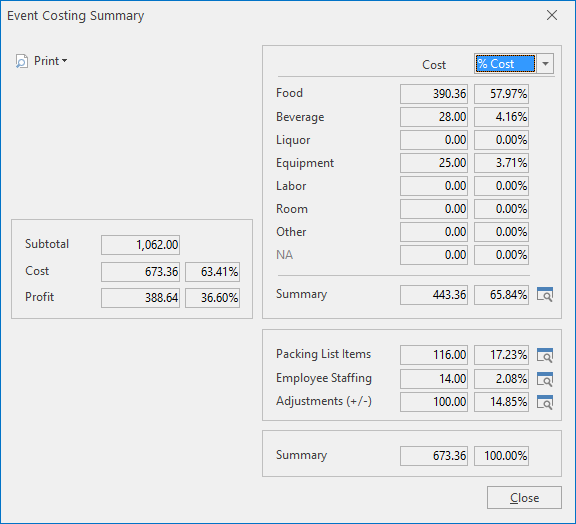 The print has been modified to display a Required Item section. We have eliminated the line item percentage to Profit in lieu of a total cost/profit summary. We also "softened" the display a bit with lighter line work.
SubEvent Window
We've added the Site Picture and Room Picture to the available fields. Both fields are READ ONLY fields pulling from the Site Locations Manager and the Rooms Setup.